One day last week I spent most of the day planning a nice dinner for my hunny. It seems like we don't share enough of these together. Usually our dinners consist of great food (that is never an exception) on a plastic plate, in front of our TV!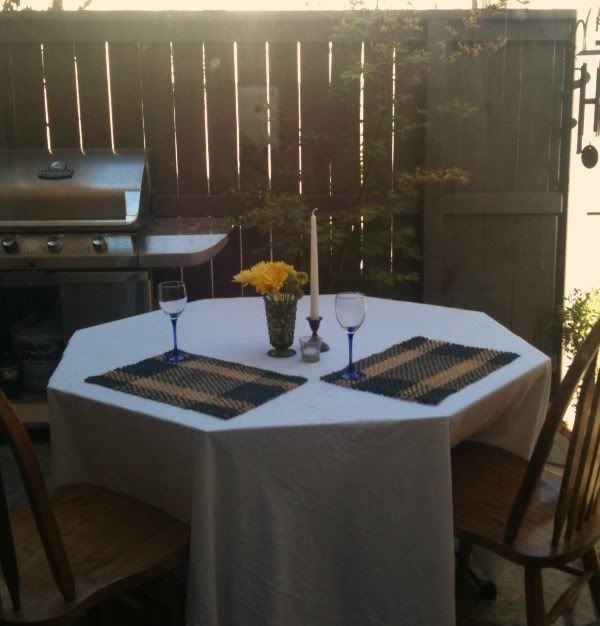 So I decided to change some things for one night. We have a stone patio that we rarely use because our backyard is a developing project. And it's taking longer than I would like. But it was a nice night and I figured why not?
Yes. I do realize my table decorating skills for this one isn't very pretty. But I had to make due, cooking the dinner was taking up most of my time. Plus he's a man; his eye was on the food.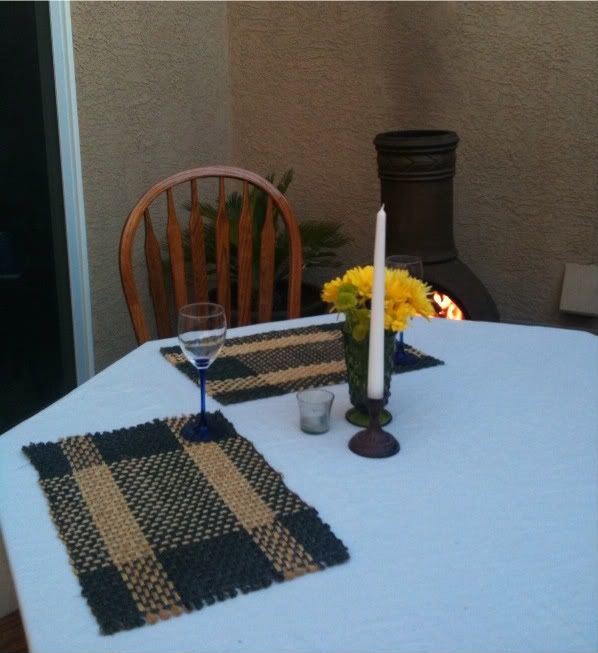 Menu:

Beef Tenderloin with Bordelaise Sauce
For the bordelaise sauce:
1 1/2 Tbs. unsalted butter
2 shallots, chopped
1 Tbs. freshly cracked pepper
1 bay leaf
6 to 8 fresh thyme sprigs
1 bottle (375ml) Cabernet Sauvignon (about
1 1/3 cups)
2 cups unsalted veal or beef stock

3 Tbs. unsalted butter
2 beef filets (preferably prime), each 6 oz., well trimmed
Salt, to taste
Freshly cracked pepper, to taste, plus 1/8 tsp.
1 carrot, cut into 1/4-inch dice (about 1 cup)
2 shallots, cut into 1/4-inch dice (about 1 cup)
1 fresh thyme sprig
1 bay leaf
1 Tbs. chopped fresh flat-leaf parsley

Directions:
To make the bordelaise sauce, in a 3-quart saucepan over medium heat, melt the butter. Add the shallots and sauté, stirring occasionally, until tender and lightly golden, 6 to 8 minutes. Add the pepper, bay leaf and thyme and stir to mix. Add the wine, bring to a boil and cook, stirring occasionally, until the liquid is reduced to 1/2 cup, 15 to 20 minutes. Add the stock and bring to a simmer, skimming off any excess fat, and cook for 15 minutes. Strain the sauce through a fine-mesh sieve into a clean saucepan and keep warm over very low heat.

In a 10-inch fry pan over medium-high heat, melt 1 Tbs. of the butter. Season the filets with salt and pepper. When the butter is hot, add the filets and sear until golden underneath, about 2 minutes. Using a pair of tongs, turn the filets, and add the carrot, shallots, the 1/8 tsp. pepper, the thyme and bay leaf. Cover and cook for 3 minutes for medium-rare, or until done to your liking. Transfer the filets to warmed individual plates.

Continue cooking the vegetables, uncovered, until just tender, 1 minute more. Add the sauce, bring to a boil and stir in the remaining 2 Tbs. butter. Cook, stirring occasionally, until the sauce thickens, 7 to 10 minutes. Remove the thyme sprig and bay leaf and discard. Stir in the parsley. Spoon the sauce and vegetables around the filets and serve immediately and enjoy!

Garlic Mashed Potatoes
6 garlic cloves, unpeeled
2 Tbs. olive oil
1 Tbs. finely chopped fresh rosemary or thyme
3 baking potatoes, about 1 1/2 lb. total, peeled
or unpeeled, cut into 2-inch chunks
4 Tbs. (1/2 stick) unsalted butter
1/2 cup milk
Salt and freshly ground white or black pepper,
to taste
1/4 cup snipped fresh chives (optional)

Directions:
Preheat an oven to 325°F.

Place the garlic cloves in a small baking dish. Drizzle with the olive oil and sprinkle with the rosemary. Cover with aluminum foil and bake until very soft, 35 to 40 minutes. Remove from the oven and, when cool enough to handle, squeeze the garlic from the skins into a small bowl. Mash with a fork. Strain the oil through a fine-mesh sieve held over the garlic and mix well.

Meanwhile, place the potatoes in a saucepan and add water to cover by 1 inch. Bring to a boil and cook, uncovered, until tender, about 20 minutes.

Just before the potatoes are ready, in a small saucepan over low heat, combine the butter and milk and heat until the butter is melted and the mixture is hot. Drain the potatoes, transfer to a warmed bowl, and mash well with a fork or potato masher. Alternatively, push them through a ricer or food mill placed over a warmed bowl.

Add the butter mixture to the potatoes and stir until smooth. Mix in the garlic and season with salt and pepper. Stir in the chives and serve immediately.

It was a good time; we stayed out there, cozy by the fire. Even though we're in California at the end of August. It just makes me want to finish our backyard so we can enjoy it even more.